Historical and Doctrinal Formation of Holiness Teachings and Praxis among Bulgarian Pentecostals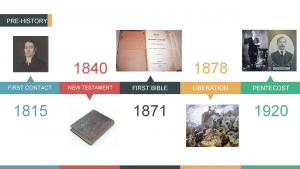 Historical and Doctrinal Formation of Holiness Teachings and Praxis among Bulgarian Pentecostals as prepared for Society Pentecostal Studies (Seattle, 2013 – Lakeland, 2015)
by Dony K. Donev, D.Min.
Protestant work in Bulgaria began in 1815 when agents of British and Foreign Bible Society, Robert Pinkerton (1780-1859) and Benjamin Barker (d.1859), initiated a search for Bible translators in the spoken Bulgarian vernacular. As a result a new translation of the New Testament in Bulgaria was published in 1840 and the whole Bible in 1871.
By the liberation of Bulgaria from Turkish Yoke in 1878 Protestantism was well established in Bulgaria. Graduates from Protestant Robert's College became prominent politicians in the new Bulgarian state. When the first Pentecostal missionaries arrived in 1920, they found a century old protestant tradition in Bulgaria.