National Lampoon's Christmas Vacation… Garrett Style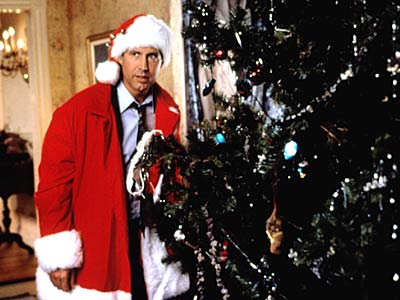 My family and I set out on our vacation this past week. We left town on Wednesday evening, driving to drive to
Paducah
, Kentucky to spend the night with my wife's parents. We went out to breakfast with them and then left just before noon, with Macon, Georgia as our destination for the second leg of the trip. Those first two legs went off without a hitch, other than 3 car accidents which caused some pretty messing traffic and slowed us down a bit. The third day started out OK, but being Christmas Eve, traffic was horrendous and it took longer than we had anticipated. We had to make it to Jensen Beach, Florida that day, which was not going to be a problem. However the problem was that we knew we were going to need to go to the grocery store when we arrived. We've done this before, several times, in Orlando... and we knew that
Walmart
on Christmas Eve was no place to be. It is absolute craziness! But suddenly my wife had a thought... what if the stores would not be open were we were going. Jensen Beach is actually on an island, so we became concerned. She called down to the resort, and they said that the economy had hit the area pretty hard, and she did not think any of the stores were staying open late. Libby got the number to the closest
Walmart
and called and they were closing at 7:00. If we flew, we
might
make it by 6:50, but that was pretty iffy. So Libby did a search on our GPS and found another
Walmart
in a town that was a bit closer to us, so she logged it in, and we did 80-85 MPH to get there on time. As we got off the Interstate and onto the local highway we had about 24 minutes. A few more minutes drive and we could quickly get enough groceries to get us through Christmas and then do the major shopping afterward. As the GPS began telling us one turn after another, we all began to think and say, "this cannot be right." Sure enough, when the GPS announced, "you have reached your destination" we found ourselves approaching the
Walmart
Distribution Center. We were all a bit miffed, but what can you do but laugh? I told Libby, "I feel a blog coming on," and we all laughed. As we backtracked out of there, we spotted a Winn Dixie grocery, pulled up in front and they told us, "we're closed!" It was 7:00 on the nose and they were closing and turning people away. We discovered that all of the stores were in fact closing at 7:00... so, since we needed to eat something, we found a
Walgreens
, knowing they always have a small grocery section in them. We went in, bought picked up a couple of frozen pizza's, a dozen eggs, a pound of bacon, milk, a pack of hot dogs and buns and a couple of
Stouffer's
dinner
entree's
, 2 cans of
Pringles
chips and two 2 liters of soda. When we got to the check out, the cashier noticed that the hot dogs were out of date. Daniel went pack to get another pack. All 8 packages of the "good" variety were out of date. So, we bought a cheaper brand. (Hey... you have to eat something!). The total for this came to more than $50. But what can you do? When we got back in the car, Daniel said, "we're in Christmas Vacation." We all just cracked up laughing.
We headed down the road, with the GPS reprogrammed to our resort, with only 17 miles to go. As we crossed the bridge to Hutchinson Island, we were getting excited, and we were all tired and SO ready to get out of the car. As we drove up the road, we were in awe of the scenic view around us. Finally the GPS said, "right turn ahead" and as we turned, it said, "you have reached your destination." We were all speechless. It was not the right resort! Wrong name... wrong address. Again, we all laughed, and I said, "Yep, Christmas Vacation... Garrett style." A man came out and told us that our resort was almost 2 miles back the direction we had come from. We turned around and just a few minutes later we were in the lobby of the resort. As we were talking to the clerk and told her about the GPS, she told us that for some reason if you typed their address into a GPS it would always take you to the wrong address, and no one has been able to figure it out. I'm thinking... might have been nice of you to let folks know this when they booked their reservations. Oh well... we made it.
So, instead of having our big Christmas dinner that we had planned, we had hot dogs for lunch and some sort of pasta for dinner... but were on a sun soaked beach, flying a kite, collecting shells and thankful that we were not at home in the 6 or more inches of snow that they were getting. We'll never forget this Christmas. For all it's pitfalls, it was fabulous.