Water Baptism among early Bulgarian Pentecostals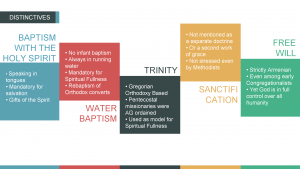 by Dony K. Donev, D.Min.
Historical and Doctrinal Formation of Holiness Teachings and Praxis among Bulgarian Pentecostals (D.Phil. research presentation prepared for the Society of Pentecostal Studies, Seattle, 2013 – Lakeland, 2015)
The sacrament of water baptism was not new for Bulgarian believers. But Pentecostals did NOT accept infant baptism. Converts who were baptized as babies or any other Eastern Orthodox ritual were re-baptized before being received in the church. Among early Bulgarian Pentecostals, baptism was always done outside in "running water." It was also considered mandatory for salvation as Bulgaria's early Pentecostals insisted on spiritual fullness including: (1) salvation, (2) water baptism and (3) baptism with the Spirit. This formula of spiritual experience satisfied the witness of blood, water and Spirit (1 Jn. 5:8) on earth and corresponded with the triune God in heaven (1 Jn. 5:7), from whom the believer's spiritual experience originated.