Review: "Run to Overcome" by Meb Keflezighi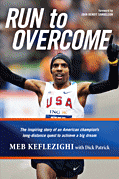 I had the task of reading of reading and reviewing Meb Keflegzighi's new book, "Run to Overcome" this week as he prepares to run this year's New York City Marathon tomorrow November 07, 2010. I got the book just as several unexpected new responsibilities were also handed to me. I am a slow reader so I have not even begun to get into the meat of the book. I will say I am excited to get the time to finish reading it as I have only so far covered the first three chapters and Meb's childhood in Africa and the struggles he and his family suffered. They have just made it to America and I am wanting to find time to finish this book.
Meb's humility is what touches me. He is an elite runner, an Olympic medalist, yet he seems to have not forgotten where he came from and how far he has come.
I have not yet gotten deep enough to say much about his faith. I do however see him giving the credit to God and His family's faith for bringing them through. This is what I am most excited to read. There are so many parallels with running and life as well as running and our Faith in Jesus Christ and living that Faith. Paul uses many running illustrations in his writings in the New Testament.
I cannot honestly say much more after only 3 chapters except I am excited to finish the book. It seems that as a runner, Meb is an inspiration and embodies the principal that we are all equal at the start line in that it does not matter where you came from, who your family is, or how much or little you have. It is just like with Jesus. We are all equal at the Cross. Sinners in need of a Savior. This is why I like running so much. I will try to post a full review later.
You can get more info on the book as well as enter a contest to win a copy of the book at
http://www.runtoovercome.com/
. Tyndale House publisher are giving away one signed book per day from Nov. 1, 2010 – Mar. 31, 2011. There will be monthly grand prize winners that will receive a signed copy of the book, other free Tyndale titles, as well as Sony and PowerBar products.
My Prayers are with Meb and his family.
Grace and Peace,
Randy