Hurricane Sandy makes a left turn, takes aim at New Jersey
The scenes are straight out of a disaster blockbuster: A killer storm takes aim at one of the most populated regions of the country.
Hundreds of thousands are forced from their homes. New York City is brought to a standstill. The nation's capital is emptied of government workers. And thousands of National Guard troops are called up.
Such was the story playing out early Monday from North Carolina to Maine as Hurricane Sandy took aim at the Mid-Atlantic coastline, where forecasters said it was likely to collide with a cold front and spawn a "superstorm" that could generate flash floods, snowstorms and massive power outages.
"It could be bad," said U.S. Coast Guard Rear Adm. Steven Rattior, "or it could be devastation."
A state-by-state breakdown of hurricane preparation efforts, impacts
Sandy has already proven her deadly wrath, claiming at least 67 lives, 51 in Haiti alone, as it smashed through the Caribbean last week.
For days, government and emergency management officials have been pleading with residents to be prepared, take precautions and heed warnings.
"The last time we saw anything like this was never," Connecticut Gov. Dannell Malloy said Sunday. "I don't know how to say it any clear than that is the largest threat to human life our state has experienced in anyone's lifetime."
New Jersey Gov. Chris Christie put it even more bluntly: "Don't be stupid. Get out!"
Taking the turn
Some 50 million people from Virginia to Massachusetts are expected to feel the effect of Sandy, whose hurricane-force winds span roughly 175 miles out from either side of the eye of the storm.
Early Monday morning, Sandy started to make its turn toward the United States, putting it on course for landfall late Monday or early Tuesday along the famed Jersey Shore, according to the National Hurricane Center.
At 5 a.m., Sandy, a Category 1 hurricane, was 385 miles south-southeast of New York City and moving at about 15 mph, the center said.
But even with the storm hundreds of miles offshore, officials were warning of Sandy's life-threatening storm surge flooding portions of the Mid-Atlantic, including low-lying areas of New York and New Jersey.
Michelle Franchaise of Ocean Gate was among the tens of thousands in New Jersey ordered to leave their coastal communities on Sunday.
She was one of 181 people hunkering down at an emergency shelter in Toms River, New Jersey, to ride out the storm. There, she selected one of the 250 green cots that lined the floor.
"I'm very concerned when I see the map, and I see how big it is," she said.
"I think I'm in good hands here. I think I'm safe."
At least 60 people at the Toms River shelter brought their pets.
"The cops came around and were like 'If you don't leave, you're going to be arrested,'" one woman said while cradling one of four kittens she brought with her.
"I couldn't leave without them."
Bracing for the worst
By early Monday in New York City, the city that never sleeps bedded down after shuttering its bus and train lines, closing schools and ordering some 400,000 people out of their homes in low-lying Manhattan and elsewhere.
The process of halting subway service in New York began Sunday night. Other mass transit systems are doing the same by suspending their services Monday, including Washington's Metro service and Southeastern Pennsylvania Transportation Authority trains and buses in and around Philadelphia.
In Sea Bright, New Jersey, across the bay from Brooklyn, Yvette Cafaro scrawled a plea on the plywood that covered up her burger restaurant: "Be kind to us Sandy."
The seaside area largely dodged last year's Hurricane Irene, and Cafaro is hoping for, but not expecting, any more reprieves.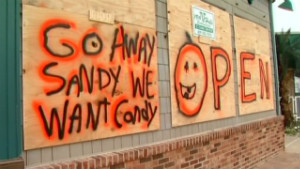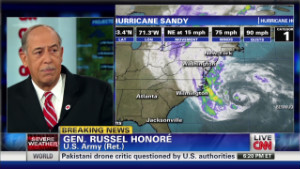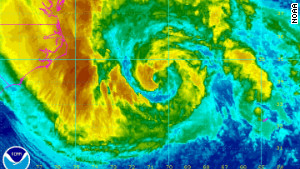 'Superstorm' Sandy unpredictable
"Everything that we've been watching on the news looks like this one will really get us," she said. "We're definitely worried about it … Hopefully, she'll spare us."
After filling his trunk with sandbags Sunday in Cranston, Rhode Island, resident Steve Pacheco said he has done what he can by clearing Halloween decorations and other items from his yard. Still, for all his preparation, he admits Sandy makes him nervous.
The price tag for potential wind damage alone is estimated between $2.5 billion and $3 billion, according to the Federal Emergency Management Agency.
The estimate doesn't take into account potential flooding and other damage, though the federal government preemptively declared states of emergency in a number of locales to help states cope with Sandy and the aftermath.
Classes, trading and campaigning canceled
Officials have canceled classes Monday for more than 2 million public school students in districts such as New York, Philadelphia, Boston and Baltimore, while numerous universities as well as federal government offices in Washington and government offices in states like New Jersey were preemptively closed.
Sandy has even managed to put the presidential election on the back burner, turning campaign plans upside down.
The U.S. stock exchanges will be closed Monday and possibly Tuesday, announcements that followed soon after New York declared a state of emergency on Sunday.
The last time the NYSE shuttered for a weather event? Hurricane Gloria in 1985, and a snowstorm in 1969 that brought the exchange to a halt.
'Superstorm' meets barnstorm as weather, politics collide
Politicos from both sides say it is still too early to tell what effect the storm will have on the presidential race, though the access to voting centers will be a concern if the storm persists until Election Day.
"I don't think anybody really knows," top Obama adviser David Axelrod said on CNN's "State of the Union."
"Obviously, we want unfettered access to the polls because we believe that the more people come out, the better we're going to do, and so to the extent that it makes it harder, you know, that's a source of concern. But I don't know how all the politics will sort out."
Virginia's Republican governor said Sunday his state would take measures to ensure residents are able to vote, despite potential obstacles brought on by the storm.
Travel nightmares
Then there are the travel nightmares that the storm has already, and will continue to, cause with thousands of flights called off, Amtrak train runs scuttled and hundreds of roads and highways expected to flood.
"This is not a typical storm. It could very well be historic in nature and in scope and in magnitude because of the widespread anticipated power outages, flooding and potential major wind damage," Pennsylvania Gov. Tom Corbett said, speaking of his state but just as well about many others in the Mid-Atlantic and Northeast.
"Essentially, this is a hurricane wrapped in a nor'easter."
Hurricane safety: When the lights go out
Janie Lambert of Hughesville, Maryland, stopped for a look Sunday at the beach at the Pax River Naval Station along Massachusetts' Chesapeake Bay.
The typically calm surf violently churning, pushed by winds so powerful that it nearly knocked her off her feet when she got out of her car to videotape it.
"We made it safely home," she said. "But I know this is only the beginning of several scary days ahead."